AGICO is one of the earliest domestic enterprises specializing in the production of energy-saving pulp molded cup carrier tray production line equipment. With many years of rich practical experience, our company has developed a complete set of advanced manufacturing technology of pulp molding machines.
High End Cup Carrier Tray Making Machine
The machines we provide for cup holder tray making include paper pulpers, pulp moulding machines, dryers and drying lines, packaging equipment, and all the auxiliary equipment that will be used in the manufacturing process.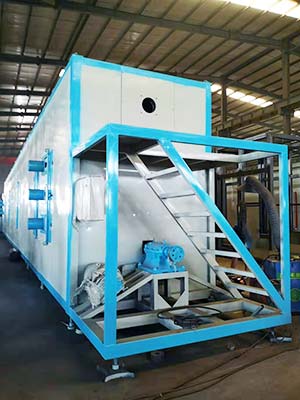 Send us an inquiry now! Our machinery can be a gold key for your cup holder tray production business!
Need a quotation? Contact us now!
Paper Pulper
Paper pulper is the primary device in the waste paper recycling process. The most used paper pulper in the cup carrier tray production line is called vertical high consistence hydra-pulper, which can break and decompose the waste paper through the force generated by the high-speed rotating water flow, so as to separate the fibers into pulp.
Pulp Moulding Machine
The cup carrier tray is produced by the transfer pulp moulding machine with the help of forming dies and transferring dies. During the production process, due to the action of the vacuum pump, the pulp will be adsorbed on the forming die, and then the forming die and the transfer die bite each other, so that the pulp is extruded into the shape of the cup holder tray.
Drying Line
The paper cup holder drying line is a tunnel formed by one or more layers. The mouled cup carrier tray is sent into the drying line by the belt conveyor, and the air inside the drying line is heated to evaporate the water content of the moulded pulp products.
Our Advantages
Advantages of our machinery

1. Our machineries are made by world leading manufacturing technology, has high production efficiency while low energy consumption;
2. High quality parts are carefully selected from top suppliers to make the whole machine have low failure rate and high durability;
3. The automatic control system is integrated into the machine itself, which can reduce the number of workers required in the production process and save the labor cost;
4. Excellent after sale service from our professional engineer team.
Do you like our machines?
Advantages of the cup carrier trays produced by our machinery

With the help of our cup holder tray manufacturing line, you can produce high quality cup carriers with following features:
1. Excellent cushioning, fixity, and toughness, can completely replace foam or plastic cup holder;
2. Can be naturally degraded, pollution-free and environmental-friendly;
3. Can be recycled as production raw materials, which conforms to ISO-14000 international environmental protection specifications;
4. Can be overlapped and placed to save storage space and transportation cost;
5. Beautiful outlook, which helpful for improving your market competitiveness;
Paper Cup Holder Production Flow