AGICO designs and manufactures egg tray production lines for mouled pulp egg tray making. Every part of our egg tray production line is precision manufactured with cutting-edge technology to ensure the excellent quality and performance. The output ranges from 1000p / h to 7000p / h, which can meet the production needs of various customers. At present, our products have been exported to all over the world and have won a good reputation among our customers.
In the past decades, we have helped customers from many countries around the world build their egg tray production lines. You can fully trust us to provide you with the top quality egg tray manufacturing plant!
Egg Tray Production Line Specifications
| | | | | | | | | |
| --- | --- | --- | --- | --- | --- | --- | --- | --- |
| Model | Capacity (p/h) | Moulds | Pulper | Molding Machine | Natural Dry | Brick Kiln | Single Layer | Multi Layer |
| ZMDT3×1-1000 | 1000 | 3×1 | ZDS1 | DT3×1 | √ | √ |   |   |
| ZMDT4×1-1500 | 1500 | 4×1 | ZDS1 | DT4×1 | √  | √ | √ | √ |
| ZMDT3×4-2000 | 2000 | 3×4 | ZDS1 | DT3×4 | √  | √ | √ | √ |
| ZMDT4×4-2500 | 2500 | 4×4 | ZDS2 | DT4×4 | √  | √ | √ | √ |
| ZMDT3×8-3000 | 3000 | 3×8 | ZDS2 | DT3×8 |   | √ | √ | √ |
| ZMDT4×8-4000 | 4000 | 4×8 | ZDS4 | DT4×8 |   | √ | √ | √ |
| ZMDT5×8-5000 | 5000 | 5×8 | ZDS4 | DT5×8 |   | √ | √ | √ |
| ZMDT5×12-6000 | 6000 | 5×12 | ZDS6 | DT5×12 |   | √ | √ | √ |
*Please note that the schemes in this chart are not absolute and can be customized. We will design unique equipment solutions for each customer to ensure the best production efficiency for them.
Need a quotation? Contact us now!
Why Choose Us
Various Moulds Satisfy Your Needs
We have a variety of egg tray moulds for you to choose, including 4×2, 5×2, 5×4, 5×5, 6×5, etc. Didn't find what you desire? No worry, tell us your favorite mould specifications, and we will customize it for you! Want to add your cool label on the product egg trays? No problem, send us your logo design and leave it to us! We will engrave it on the moulds so every piece of egg tray you produced will carry your own mark.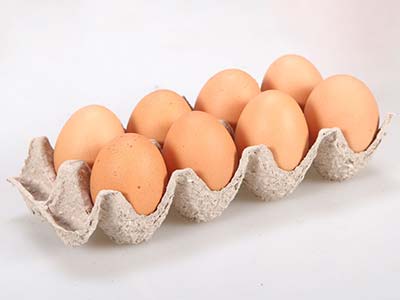 Customized Equipment Scheme
We are always committed to creating the best quality equipment for our customers' factories to help them achieve the best production efficiency under limited budget conditions, and thus achieve mutual benefit and win-win between us. The equipment solutions we provide for each customer are unique and specially built by our engineers after referring to the customer's needs.
We will customize the most appropriate production line scheme for you according to the site size, production scale, investment budget, and other factors of your factory.
Thoughtful Installation and Operation Guidance
In China, we have an old saying: Give a man a fish and you feed him for a day. Teach him how to fish and you feed him for a lifetime.
For customers who have purchased our complete egg tray production lines, we always sent our professional engineers to their factories to assist them in the equipment installation and commissioning.
We also provide equipment operation training services. Our staff will teach and guide your workers how to operate machinery correctly and standardized in all links of the whole production process.
Machines in Egg Tray Production Lines
From waste paper recycling and pulping, to egg tray moulding, drying, and packaging, our machineries cover every link in the pulp egg tray manufacturing process.
Pulping Process: Belt Conveyor, Vertical HC Hydra Pulper, Vibrating Screen, Pulp Refiner, Pulp Pump;
Moulding Process: Egg Tray Moulding Machine, Vacuum Pump, Solenoid Valve, Mould Cleaner, etc.;
Drying Process: Single Layer Drying Line, Multi Layer Drying Line, Fan, etc.;
Packing Process: Auto Packer, etc.;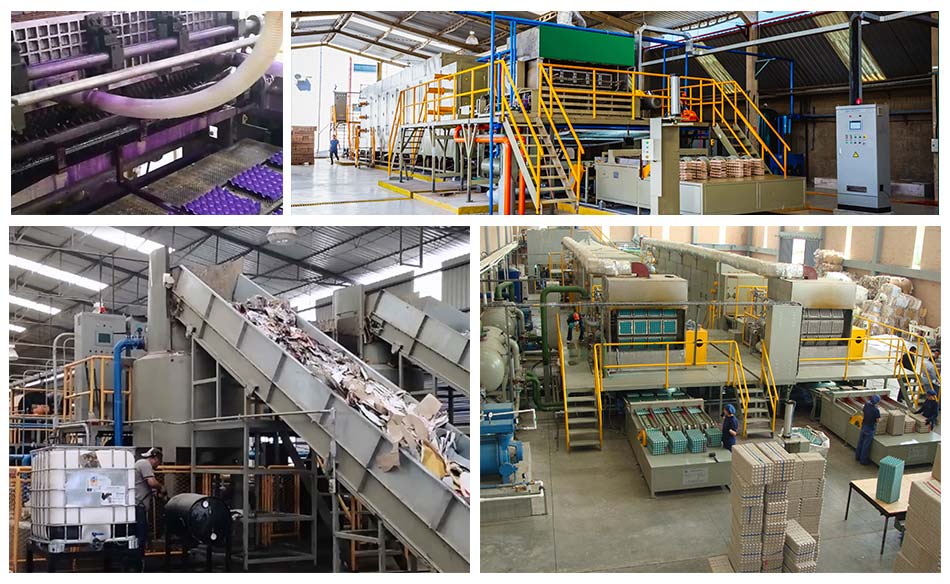 Get in touch now to start your egg tray production!
Egg Tray Production Process
The production process of egg trays can be basically divided into four links: waste paper pulping, egg tray moulding, drying, and packaging.
Pulping
Pulping system refers to the process from waste paper to pulp. The recycled newspapers, magazines, and other waste paper are transformed into usable pulp after a series of processes such as soaking, crushing, stirring and pulp mixing.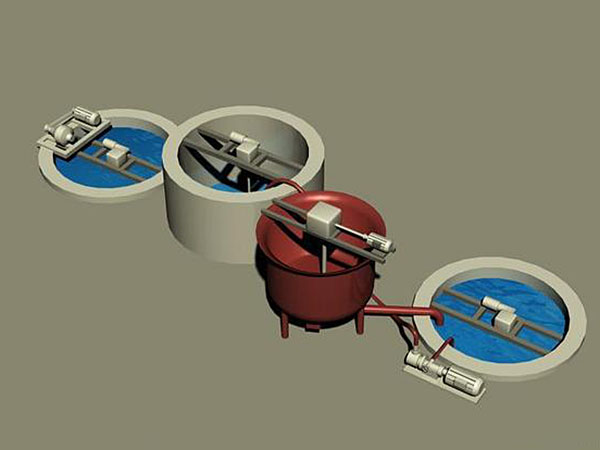 Moulding
The moulding is the core process of egg tray making.
After the pulp is adjusted to the concentration required for molding, it is sent to the pulp tank at the bottom of the egg tray machine; The forming mold of the egg tray machine will be transferred into the slurry tank with the drum, and the pulp will be sucked into the mould by vacuum adsorption; After that, the forming mould and the transferring mould bite each other to form the pulp into an egg tray wet blank, which is sent to the conveyor belt by the transferring mould.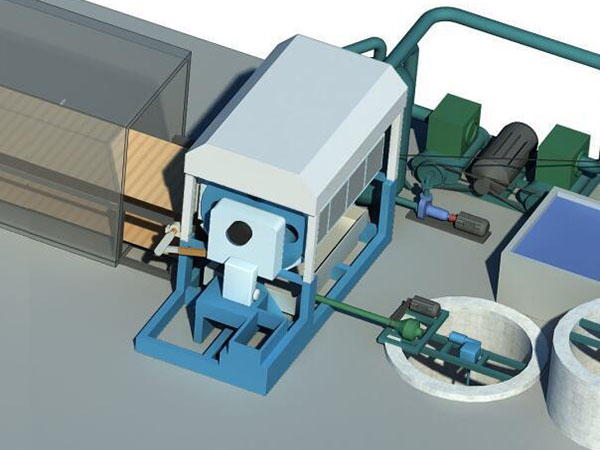 Drying
After being moulded to egg trays, the pulp still contains a high content of water, which must be removed through the drying procedure.
The drying line uses fuel oil, electricity or steam as the heat source to heat the air inside the drying tunnel to 180 ~ 220 ℃. The molded pulp products sent into the tunnel will be fully dried in the hot air, and the fan will extract the water evaporated from the products, so the product can be rapidly dried.
We provide two drying schemes: single-layer drying line and multi-layer drying line. The single-layer drying line covers a large area, but the construction cost is low; the multi-layer drying line covers a small area and has high thermal efficiency, but the construction cost is also high. Customers can choose the appropriate drying method according to their own plant size, budget and energy conditions.
Packaging
After being fully dried, the egg trays are ready to be packaged and delivered to retailers.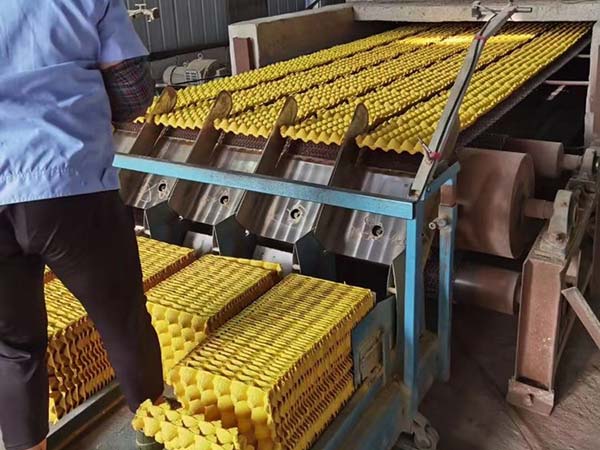 Although the cost of manual packaging is cheap, such packaging efficiency is too low. For manufacturers with large output, we provide automatic packers, which can pack egg trays more efficiently.